New in!!!! Incredible Baghera Riders are now in stock. We love them and think you will too.
Baghera cars come in a variety of shapes and sizes and we consider the new style Baghera Riders the biz! Baghera ride on cars have a race element to rival the classic races of yesteryear. Just like a 1920s Grand Prix, they arrive in a variety of colours. Perfect for your little ones.
As a bit of fun, The Toy Centre thought we'd take a look at early race cars. And guess what? They look strikingly similar to our gorgeous Baghera Riders! What do you think??
Men and women compete in the races…

Wow! What a Vintage Racer!

Liking the No 4…

Baghera Pink Rider.. No 5
Riders are large ride ons for children. Little boys and girls adore the big Champion ride ons. Just like in the Golden Age of Motorsport (see above left) both boys and girls love to drive these cars. Made of sturdy metal which makes them both strong and durable. As a result, Riders take any little knocks and bumps in their stride. Additionally, the lavish 90cm long body make them ideal for 2 year olds. Similarly, the large wheels with real rubber tyres make them strong and silent. The tyres are also extremely useful for driving over different terrain. For example, carpet, garden path, grass. Yes, these superb cars are suitable for use inside and out. How cool is that! Meanwhile, the Riders boast super sleek lines. We are sure that these cars will soon become your child's favourite companion.
Toddlers thrill to the shape of this car. As a result, the ride on Rider encourages mobility and teaches children to be aware of the space around them. Children love sit and ride toys and these vintage ride ons will have them clamouring to push and scoot themselves around.
We delight in the colour selection of the eye-catching Baghera Riders. Choose from Pink, Blue, Silver, Black, Red and even 'Snow White'.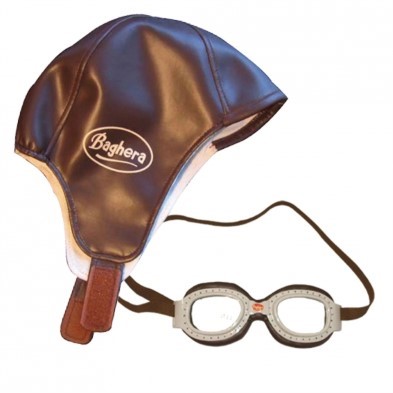 Why not add to the play fun with exciting Retro Racing Hat and Goggles or Klaxon Horn as seen on our fabulous toy car accessories page? Sooo cute, you won't be able to resist!
The Baghera Rider on car is great fun to ride and the stylish design is perfection for a metal ride on race car! This is something really quite special to look at. An heirloom toy to pass through the generations.
Suitable from age 2 years. These cars will definitely be a winner with your child!