Pirates have long-held fascination for us with their romantic derring do. Stories of swashbuckling corsairs and tales of plunder enthrall us in their very excitement and pique our curiosity so much that we want to know more.
Our view of pirates today is very much shaped by Hollywood of the early 20th century. Think Douglas Fairbanks Snr swishing that sword into the top sail and gliding down to deck (watch video clip below piccies). More modern films continue the persona with the likes of Captain Jack Sparrow. It's all great fun and kids love it! But remember, there were some very infamous pirates back in the day, such as Blackbeard and Henry Morgan and even Barbarossa. Ladies weren't immune to a life on the seas either. Anne Bonny and Mary Read also taking a piratical stance.
Interestingly, Barbarossa, from which our wooden toy pirate ship by Le Toy Van takes its name, was an Ottoman pirate who, when wounding his arm in battle, promptly replaced it with a hook (Am guessing that is where Captain Hook came in….you gotta love that Disney version!!!). Originally a seaman, along with his three brothers, Barbarossa (original name Khidr) turned privateer and fought for the Ottoman Empire. At this time, Khidr's brother Oruc, was also known as 'Baba Oruc'. To Europeans this sounded like 'Barbarossa' (Italian for 'Redbeard'). Since Oruc had a red beard, the name stuck. When Oruc was killed, Hizir Inherited both his brother's position and name; the famous pirate Barbarossa was born.
Piracy, although not new, acquired a Golden age from the 1650s to the late 1720s. It is this period which captures the imagination. Adventure novel, Treasure Island, first published in November 1883 by Robert Louis Stephenson (under the pseudonym Captain George North) really encapsulates many popular pirate perceptions. Who doesn't think of treasure maps marked with an X, the Black Spot and one-legged seamen beginning a conversation with 'Ah, Jim, lad…'
Children have bought into buccaneer stories since time immemorial. Despite frightening reputations, and possibly because of them, children instantly identify with the imaginative idea of flying the 'Jolly Roger' flag, with its rather gruesome skull and crossbones. Making toys 'walk the plank' brings positive laughter. High adventure on the seven seas is what it is all about. Just watch those ships coming up on the port side…..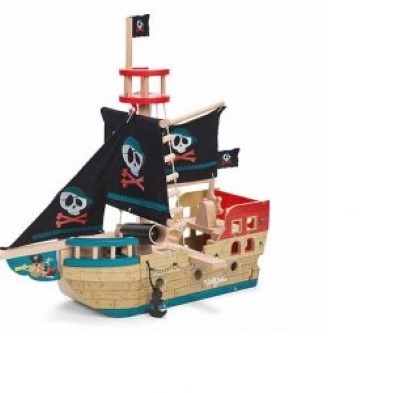 For added game ideas, watch old movies together, have a read or watch that old favourite, Captain Pugwash (You all know the theme tune…). This is one genre that will run and run.
For extra inspiration, why not visit The Royal Maritime Museum at Greenwich? History is brought to life in an interesting and informative way. Plenty of buccaneering tales to learn about plus so much more.
From Pirate Ship to Buccaneers Fort and even an outdoor Pirate Sandboat, the magical world of imaginary pirates inspires children everywhere. So splice that mainsail Bo'sun!