We are very pleased to welcome Tender Leaf Toys to The Toy Centre Family.
Celebrating the wonderful world of wooden toys to entertain children, Tender Leaf aim to exhilarate young minds. And as all toys are ethically made, it's good know you have made an excellent choice! Browse among exciting pretend play sets, early learning toys and more.
By know how and expertise, Tender Leaf designers and craftsmen bring a wooden toy selection that is at once both beautiful and creative. And one that young children from 18 months to 8 years of age will enjoy.
We adore the fantastic Tender Leaf pretend play sets. For this reason, we have chosen a superb and varied collection. For example, pretend kitchen toys such as inventive Toy Kitchenette. Or amazing Ice Lolly Shop. Then again, superb Birdie Afternoon Tea Stand really encourages little ones' social skills. As they serve up a fantastic posh tea! On the other hand, who could not fall in love with Cottontail cottage? As can be seen, this is the sweetest little wooden dolls house. And includes a fab starter set. Moreover, it has a cute little bunny rabbit theme. In like manner, the rabbit motif continues with darling Running Rabbit ride on for 18 months + So adorable….
Another must see are the unique development toys. For one thing, there are colourful wooden and cog puzzles designed in the shape of a snail. Instantly children are attracted to the colour and circular shapes. As a result, little ones learn more about movement and how things work.
And don't miss the very clever play and pack away toys. On the whole, these useful toys literally can be set up and then neatly stored away. Perfect for travel or holidays too! And excellent for a very tidy playroom when playtime is over for the day. We love the wooden Ice Cream Cart. Especially in the summer…..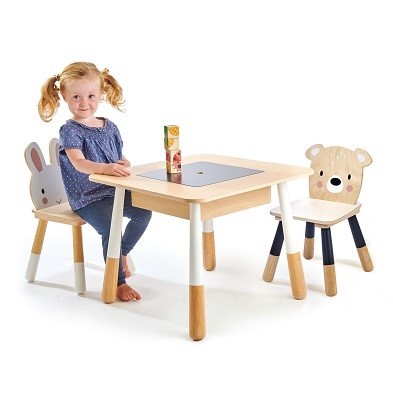 Additionally, as children discover their creative side, what could be better than an animal themed table and chair? Especially one with a 'secret' compartment for crayons and toys….Perfect for the nursery or play room.
Worth Knowing
All Tender Leaf toys have been made with two major principles. Firstly, to advance children's skills. And secondly, to re-stock rubberwood forests. Meanwhile, all manufacture processes take place at the same Indonesian factory location. Notably, wood drying, cutting and painting.
Tender Leaf Toys aim to give back our children a natural play environment. And that totally agrees with what The Toy Centre is all about. Meanwhile, the fun is endless. Since wooden toys have always had the extra edge in promoting imagination, energy and excitement. As well as stirring energy and emotions. Classic playthings, they engender a love that will ensure these toys will be passed down through the generations. For this reason, we know you will love them as much as we do.