Toy farm sets bring a special kind of magic to the playroom. In the first place, farm toys are great imaginative and learning toys. With such wonderful playthings such as tractors to drive, animals to feed, farm door openings to the farmyard and hayloft and the like. Especially useful to engage young children and inspire them to create their very own imaginative world during role play. Not to mention, introduce kids to the wonderful world of animals. Notably where kids learn the names of farm animals. Then how to easily identify them. After all, isn't it fun to make a moo cow noise? Thus, as little ones happily engage with farm playsets, they improve their creative skills and relate to nature more easily.
Whilst playing with farm toys, children receive many additional learning benefits. For example, these toys greatly improve sensory stimulation and fine motor skills. Alongside hand-eye coordination and creative abilities. Moreover, toy farms for kids can be used during any season. Not just at Christmastime!
Our favourite toy farms are both wooden and eco friendly. Thus, ensuring that the environment is protected. Along with the added knowledge that these toys are strong and durable. And, certainly well made to withstand the odd knock or two. Being so timeless, they are bound to become treasured family heirlooms to be passed down the generations. Equally important, most are flat packed with easy assembly.
Large Range of Wooden Toy Farms
Great to encourage small world play, our selection of toy farms allow children to act out all sorts of scenarios. So whether they are herding sheep or ploughing the fields, they seamlessly build both vocabulary and language skills. Not to mention, learn more about the world around them. This knowledge increases even further with such wonderful innovations as Bigjigs Town and Country Train Set. Which encompasses the best of both worlds!
Both educational and fun, a wooden farm toy suggests where little ones food comes from. Besides, teaching awareness of the seasons. For instance, harvesting the fields with Bertie's Tractor in the autumn. In the same fashion, kids learn how to look after animals. Together with important building and counting skills. Whereby, animal farm blocks are particularly useful. And remember, once you have the basis of a quality farm toy set, the stage is set for kids imaginations to soar. Even if they do add an apple as a mountain!
Self-Assembly Wooden Farm Sets
Most of our wooden toy farm sets for kids are self-assembly. Which means you have to put it together before play. However, with flat pack sets all laid out in the box and easy instructions (and in many cases no screws or fixings to deal with – hurrah!), this should make the build a doddle. And if you do have a problem, please do feel free to contact us.
Good To Know: Toy Farm Scale
Most of our farm toys are 1:32 scale. Thus, our farm sets and animal toys are compatible and quite happy on their farm toy world. For example, Le Toy Van Barnyard works perfectly well with Tidlo Farm Animals.
Top Wooden Farm Sets at The Toy Centre
We have put together our top 5 farm toy picks for you to browse. Taking into account quality, ingenious details and most importantly, value for money.
1. Tidlo Oldfield Farm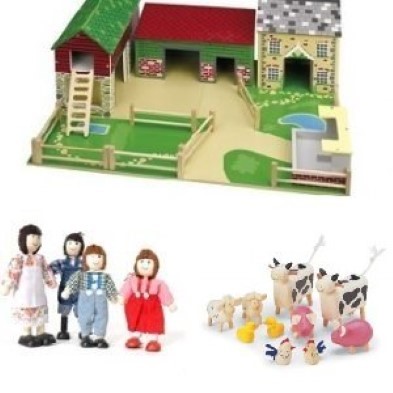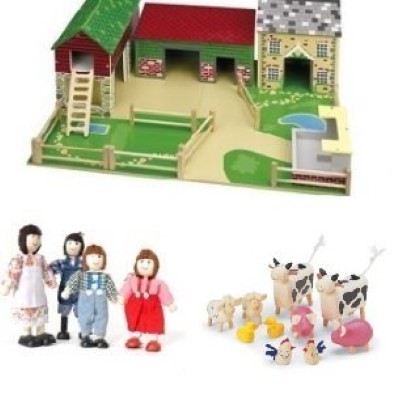 A bestseller with good reason. As Tidlo Oldfield Farm displays everything the young farmer needs to go about his daily life. A great toy for youngsters discovering all about life on the farm. Such as an animal shed, barn, loft, ladder, fences, wooden play base and even a farmhouse! (Just take a look at our YouTube video here) Being so engaging, this wooden toy farm motivates individuality in children as they play. Extra fun addition are the magnets which attach the roof panels. Also, with the farm being made in super chunky style, it is both easy for little hands to grasp and is especially durable. Meanwhile, the baseboard splits in two and you can place the buildings wherever you wish. Fab for group play too. Works especially well with the Tidlo Farm Animals and Tidlo Farm Family. A classic toy farm set great value all rounder.
Flat packed for easy assembly. A screwdriver is required to set this play farm up, but definitely worth it! Suitable for age 3+
2. Le Toy Van Barnyard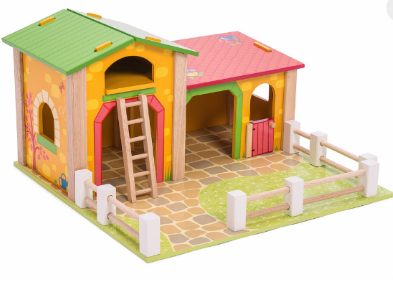 Perfect to get children back to nature, Le Toy Van Barnyard wooden playset features plenty of room to house wooden farm animals. Sturdy, strong and with great illustrations. Includes a cow shed, stable, barn with hayloft and fences. Not to mention, all the quality features expected of Le Toy Van. Thus, this crafty farm set achieves all of the fun at a slightly more budgeted price. A winner as far as we are concerned!
Flat packed for easy assembly. Suitable for age 3+
3. Lanka Kade Pig and Sheep Barn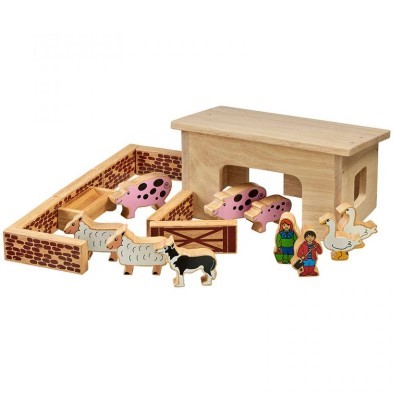 We have 2 varieties of the delightful Lanka Kade Pig Barn Both are lovingly made from sustainable rubberwood. With one featuring colourful characters (BU23) and the other (BU24) identical in every way, except for the pure beauty of natural wood. Even looks good as an ornament! 18 chunky pieces are housed in a barn with removable roof. The skill and attention to these toys are second to none. And with all this wonder at your fingertips, we reckon this is a steal at just £49.99.
Boxed. Age 3+
4. Le Toy Van Farmyard
Easy to assemble, Le Toy Van Farmyard rubberwood set is beautifully painted in bright, non toxic colours. Wonderful detailing even includes painted loft floorboards! Includes a large barn with hayloft, milking parlour, pigsty and stable. Thereby, gives little ones ample play room. Just add some wooden animals and watch the fun. Slightly more expensive, but with such quality is definitely an heirloom toy.
Flat packed for easy assembly. Suitable for age 3+
5. Bigjigs Toys: Cobblestone Farm
We love this colourful Cobblestone Farm set by Bigjigs. Again flat packed with easy assembly. This playset presents a farmyard surrounded by slot together fencing. Which is easily removed to give more imaginative play value. Once again, a hayloft and stable feature. Alongside working gates and a duck pond! Certainly, the chunky colourful pieces invite investigation and play. Just add some colourful characters. A value for money set.
Age 3+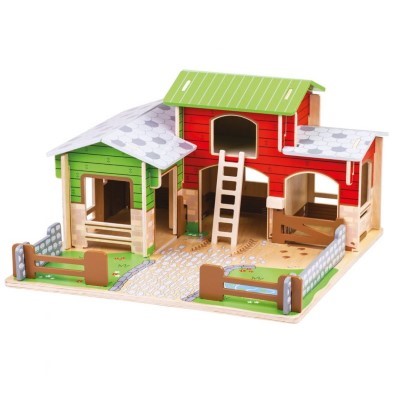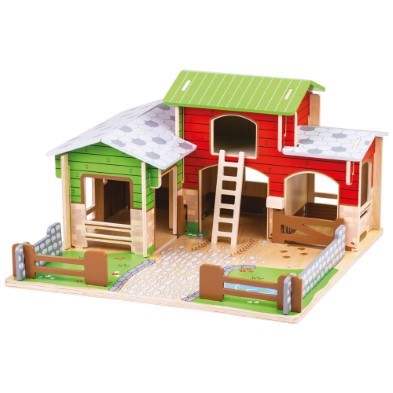 With all the fun of the farm at home, little ones can really explore their imaginations whilst at the same time discovering new life skills. So choose a durable wooden toy farm for kids and you will be rewarded with a very happy child!