Maximizing the Benefits of Play Kitchens
Let's explore the myriad advantages of engaging with toy kitchens, as well as key considerations when choosing one. Truly, play kitchen benefits bring numerous development advancements to children's learning experience. Together with awesome playtime fun!
Social Development
Moving on to social growth, play kitchens offer valuable opportunities for children to enhance their social skills.
Engaging in role-play scenarios with friends or family allows kids to practice communication and manners. They can take on roles as chefs or customers, learning to use polite phrases like "please" and "thank you" when ordering food or sharing meals.
Cognitive Development
First and foremost, let's delve into the cognitive benefits of play kitchens.
Playing with kitchen sets empowers children to grasp fundamental math concepts, such as counting, measuring ingredients, understanding fractions, and following instructions. For example, wonderful Bigjigs Wooden Kitchen Scales is perfect for this. As this colourful set easily attracts kids attention. Plus, features clearly marked numbers. Moreover, these very worthwhile toys foster problem-solving skills, challenging young toddlers to assemble pieces and concoct recipes from their imagination.
Fine Motor Skills
The refinement of fine motor skills is another area where play kitchens shine.
Through activities like setting up a pretend tea party or manipulating kitchen utensils. Notably, by using such fantastic toys as our delightful Young Chef's Baking Set. An amazing 23-piece baking set that includes a baking tray, loaf tin, whisk, rolling pin and oven mitt, to name but a few. As a result, play kitchen benefits include children developing hand-eye coordination and dexterity. Using utensils such as spoons, forks, and knives enhances their grip and hand-eye coordination. Handling smaller items like wooden play foods, fruits, vegetables, and kitchen tools refines their dexterity and precision. Assembling and disassembling toy kitchen sets strengthens finger strength and know-how.
Play Kitchen Benefits Language Development
Play kitchens also serve as a fertile ground for language development.
As children play with their peers, they encounter new cooking-related words, expanding their vocabulary. Frequent play can significantly boost their word bank, and older children may even start crafting stories, enriching their language skills further. Additionally, older kids can practice writing and develop a positive attitude towards real cooking.
Exploring Wooden Play Kitchens
Now, let's explore the different types of wooden play kitchens available.
Wooden play kitchens, known for their timeless appeal and durability, come in various styles and colours. These often feature realistic details like knobs, drawers, and cupboards with clicking sounds, oven mitts, and shelves. Some models even include removable parts and play food. Additionally, they arrive in a selection of styles and sizes. at a range of different prices to suit affordability. Thereby, ensuring there is a play kitchen toy to suit every budget. From a mega deluxe Tender Leaf Toys Range Kitchen and Vilac Chef Kitchen to a really cute pink Princess Wooden Kitchen. Due to it's size it is a great starter kitchen for your little ones. The compact size is big enough for hours of play but small enough for easy storage.
In contrast, for a complete vintage feel, discover truly tremendous Kids Retro Play Kitchen. Which for a superb price and lots of remarkable accessories, this admirable play kitchen benefits kids as it delivers masses of play value whilst children easily develop vocabulary, imagination and social skills.
Pretend play kitchens in a natural wood finish provides a classic feel and room for customization, from painting to adding accessories. Some wooden models come with optional accessories like wooden cooking pots, utensils and play food for extended play. Highly effective as a proven method to increase story play, resourceful Classic World Chef's Kitchen includes all these beneficial added accessories.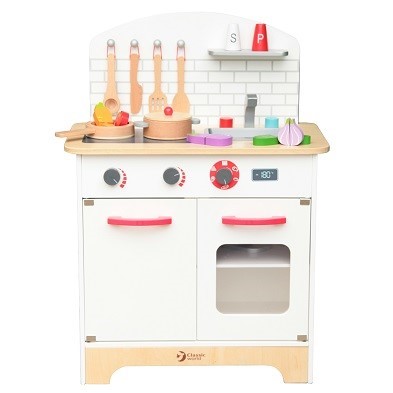 Prioritizing Safety
Safety is paramount when choosing a play kitchen.
Select age-appropriate toys to prevent advanced or dangerous play.
Avoid choking hazards by ensuring small parts are secure.
Consider fire safety when using stove or oven features.
Always opt for non-toxic materials with no sharp edges or corners.
By following these guidelines, you ensure both fun and safety for your child.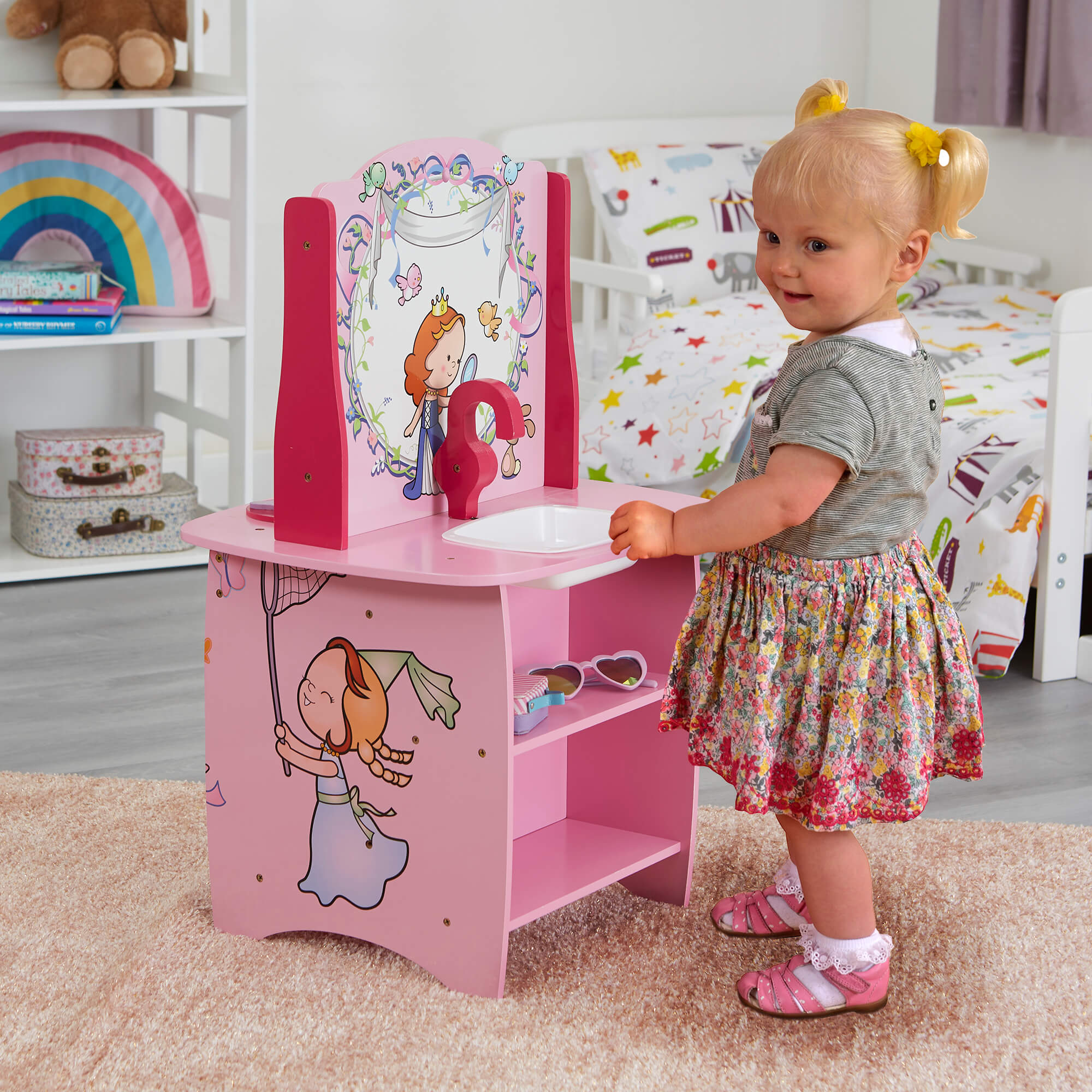 Perfect Age for a Play Kitchen
Lastly, determining the ideal age for a play kitchen is a consideration.
Generally, children between 3 and 5 years old are ready for this toy. Observe your child's physical and cognitive development and use your judgment to decide when they're ready.
In their early years, children can enjoy play kitchens with older siblings and learn basic cooking skills and role-play scenarios. Ultimately, the decision rests with parents based on individual observations and judgment.
Is a Play Kitchen Worth it?
Let's address the question of whether investing in a play kitchen is worthwhile.
Absolutely! A play kitchen encourages imaginative play, imparts culinary knowledge, and introduces sustainability concepts in an engaging manner. Thereby, making it the perfect play addition to playful and educational learning toys.