Push toys really provide such a fantastic amount of development for baby. Not only do they actively encourage help with walking, balance and strength; they also add in many other learning activities alongside teaching fine motor skills. In the first place, a push along toy for toddlers can help boost little ones' confidence and enhance their balance. So much better than holding onto bits of furniture as they explore their world!
Push Along Wooden Toys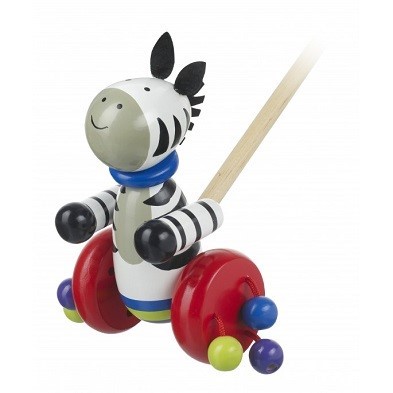 Being strong and durable, wooden push along toys are a no brainer. As they can withstand being trod on, sat on and little bumps. Well, you get the picture!
Super learning toys for tots, wooden push toys provide great physical activity. Not to mention, assist strength and muscle growth. Additionally, they assist coordination, which, in turn, encourages cognitive and those so important motor skills. With this in mind, it's fantastic to know that actually toddlers love to push and pull things. And really feel that they are doing something important. Which they are! Thus, as soon as your child begins to move around, what better way to encourage them than to introduce their own special push along wooden friend? Such as a delightful Zebra with its clackety clack bead wheels? Or maybe even a cute little push along rabbit. Moreover, with such a wide choice of push along toys for toddlers and infants today, there really is something suitable for every young learner.
Select The Best Push Toys for Baby
Push and pull toys are the foundation of a child's physical development. And as such, are the top recommended toys to help baby's movement and eventually learn to walk. As many of these push along toys for toddlers also help children in many other ways, such as colour recognition, we suggest considering which attributes are most required at the time of gifting. For example, encourage young babies to use their tummy muscles whilst having fun. For instance, lots of tummy time giggles with small wheelie toys as they push that Orange Tree Toys Pirate Dog away.
Even better, as all our wooden toys are safely made from durable wood and painted in non toxic paints, you can relax knowing that they are even safe for inquisitive young ones if they start to chew on them! Similarly, another good to know point, they are all lightweight and easy to clean. (Checkout our Cleaning Wooden Toys Blog here)
Meanwhile, the main purpose of a baby walker is obviously for toddlers to have something to lean against as they tentatively take their first steps. Furthermore, babies still at the crawling stage adore to chase around the room after an amusing character. Particularly, a Classic Winnie the Pooh trundling around in a honeypot or a colourful Roaring Dragon!
Once babies get to the sitting stage, a little retro car or fun animal on wheels is fab for pushing around the living room or garden. Especially with a real metal steering wheel to hang onto. Such as classic Baghera Red Racer. Particularly delightful with retro charm and rounded body. Even a horn! Perfect for little novice drivers.
Top Toddler Push Toys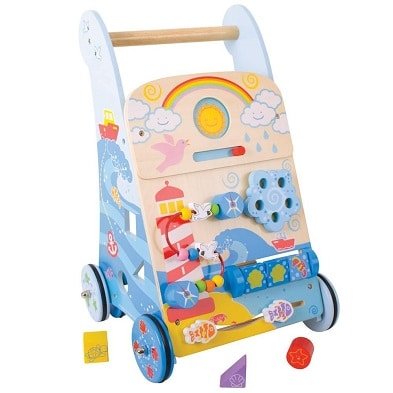 As soon as babies find their feet, introduce them to a push along toy that allows them to push themselves up. Then they can really go to town having hours of entertainment (along with you) as they explore their surroundings. For this reason, activity walkers are a real learning win-win. With added interactive features such as colourful spinning wheels and even seahorses in the case of Bigjigs delightful Marine Activity Walker. Especially handy on days when toddlers have boundless energy and nothing seems to calm them down, an activity walker not only helps burn off excess energy, but equally improves their new found motor skills.
Toddler Ride On Toys
Ride on toys are fabulous playthings for young children. Not only do they help develop balance and coordination, they also encourage exercise! And in our experience, with a ride on toy, children have so much fun they are completely unaware that they are learning too!
As soon as babies can sit up safely, children adore sitting down as you gently push them around on their new ride on toy. However, once their little tootsies reach the floor and they discover how to push themselves around, the fun really starts. With our sturdy and robust metal ride on cars, you need not worry if the car has a little mishap as it bumps into the wall. Because as we all know, new little toddler drivers aren't always the best at first! Notably, Baghera ride on cars have handy bumpers for just such occasions. Plus the real rubber tyres ensure a smooth ride. As well as protecting floors. With all ride on toys, do check the minimum age and maximum weight guidance to ensure that your toddler play safely.
All in all, a push along toy has so many advantages for young children. From the earliest age, a push toy allows little ones to learn the basic skills for life. So explore the wide varieties available and have fun today.