All types of play are so important to your child's development. And pretend play is no exception. Starting in infancy and on throughout life, this vital element allows us as grownups to employ imagination to solve problems and devise a fresh new way of doing or making things. Or to appreciate a fabulous film or a brilliant new book. So read on and discover 5 essential benefits of pretend play for kids.
1. Benefits of Pretend Play: Inspires Creativity and Imagination
As little ones explore new role play games, they expand their capability for both creativity and flexibility. For instance, when your child pretends to fix that broken toy on his superb new toy workbench, they actively learn to think for themselves as they play carpenter, builder or repair person. Furthermore, if children are playing together, their discussions over what should go where help children to understand another point of view.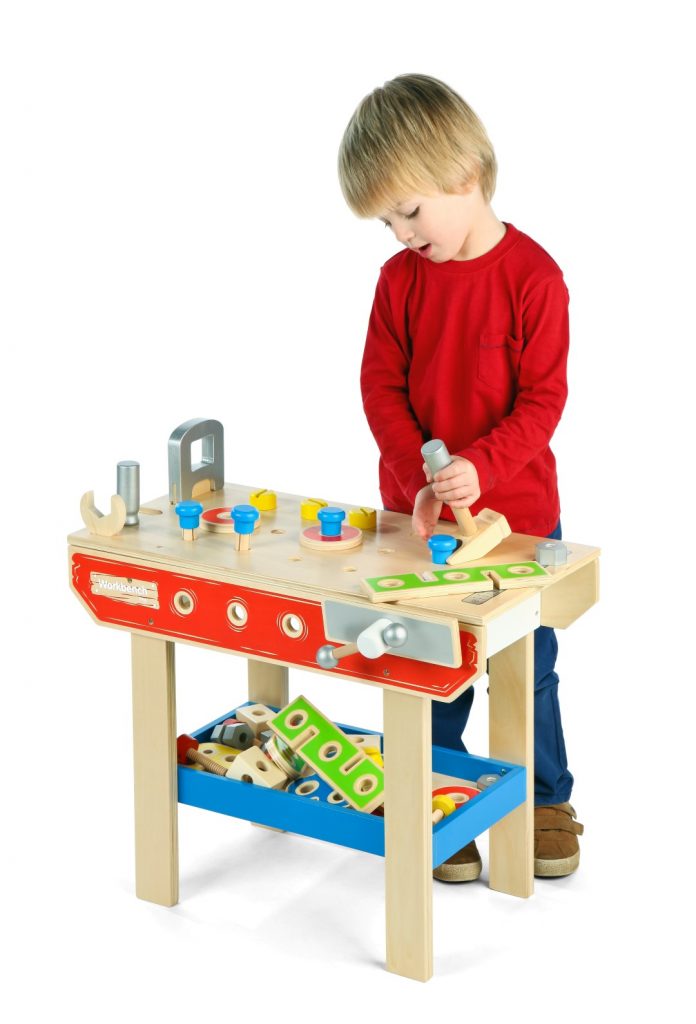 Super wooden toys like Tidlo Toy Workbench benefits kids pretend play easily
2. Supports Emotional and Social Development Skills
Children immediately thrill to games where they pretend to be different people. Maybe a master chef or a brilliant smoothie maker barista. Super fun with their new play kitchen or blender set. As a result, kids indulge in imaginative play where they assume a different identity or control objects. In reality, they practice social and emotional life roles.
When playing with their new cradle or dolls pram, children learn to care for their doll or teddy charges. Making sure they are comfortable. And chatting to them on their dolls pram walk through the garden. All excellent experience for later on in life when caring for real people and animals.
Great for learning how to run around in some else's shoes, pretend play fantastically develops self-awareness and self- esteem. Particularly when they learn how to recognise and respond to other's feelings when taking part in group imaginary play.
3. Communication and Language Skill Improvement
Role play allows plenty of fun for kids and also provides ample opportunities for discussion. For example, when playing with play food, little ones ask and discover where food comes from. Plus, what food is more healthy.
In the meantime, when engaging in different role play scenarios, kids learn new language that they might not encounter every day. As an illustration, perhaps when playing a train driver on the beautiful alpine set Treetops Train Set they discover new animals. Like a bear, a hilarious moose and a fox. Not forgetting that delightful alpine chalet en route.
Really important, as language becomes far more familiar to them, pretend play benefits children by allowing them to gain control and decrease their anxiety over words and speech. Definitely a plus point as it gives them confidence to explore even more words. Especially when they are announcing the next train station stop!
A really essential social skill is communicating thoughts to others. With their new found word confidence, children happily chatter away knowing that others will know what they are saying (mostly anyway!)
4. Develops thinking, Learning and Problem Solving Abilities
By the very nature of pretend play, kids are shown scenarios and problems to solve and plan. Such as how to set up their play shop with lots of goodies that don't tumble down. Additionally, they also learn how to cope or adapt when something doesn't go the way they intended when playing a game. Based on our shop example, perhaps the play food fruit needs to go alongside the wooden cutting food so that shopper customers like mum and dad see the items clearly. As they develop new strategies, kids additionally develop key memory skills. Great to prevent that same mistake happening again!
By playing different exciting role play games, kids explore abstract thinking. That is to say when a person or object takes on a different meaning. As children acquire more concepts, they are able to mentally sort through these concepts and identify similarities and differences. For example, abstract thinking allows a child to broaden the concept of "cat" to a broader concept of animals. It also allows them to add new information to a previously-learned concept, e.g. animals can be household pets or wild animals.
5. Enhances Physical Development
A super special pretend play benefit has to be physical development. Which is supremely enhanced almost unnoticed whilst kids are in pursuit of fun pretend play. Since deciding to become an aeroplane pilot or running around pretending to be a motor racer is often quite physical. Additionally, learning about rough and tumble limits goes automatically with the territory as kids push and pedal around in their magnificent new car and the like. All wonderful know-how to know when something should not be attempted!
Meanwhile, let's not forget those fine motor skills. Equally important, these remarkable skills allow us to undertake more delicate actions. Employing dextrous activities like learning to write. Which are greatly refined while dressing or feeding a doll, for example.
How to encourage the benefits of pretend play:
Keep it simple – repetition is fun
Follow your child's lead – play with things your child is interested in
Play together face to face so your child can copy your gestures/pretend actions
Take turns – the play becomes a "conversation"
Introduce new ideas when they can link ideas together – e.g. if they like to play with shops, take them around the supermarket
And finally, choose the right toys. We have a magical selection of sensational toys at The Toy Centre ready for your child to play with.