Twin mum and guest Blogger Ellen@Twinterest has done another product review with her two girls, who have been enjoying the Alex Brands 'Ready, Set, School' this month!
As a stay at home mum to three year old twins, there are often moments in the day when I have to get an emergency activity out… this may be on a rainy day, to fill some time before a meal, keep the girls distracted whilst I'm doing some chores or to stretch out no-screen time for even longer.
I have a box with different craft bits in, and would get ideas from Pinterest of the type of activities I could do. The key thing is to keep them entertained and engaged for as long as possible…
Since having the Alex Brands 'Ready, Set, School' box it has made my life so much easier! It's like having a box full of resources to dig something out of, and someone else has put the effort in to design interesting, fun and educational activities for your little one to do.
Being presented with themes and suggestions of what could be done with the contents of the box has meant that the girls have surprised me with their fantastic achievements. When I search online for things to do I would generally stick to things that I know they enjoy and are good at, but actually they are far more capable than I had realised! Preschool children develop at such a quick rate that they can focus and achieve new things each day, and as a full time mum it's my job to encourage that progress.
The Alex Brands set has shown me that the girls have far more awareness and potential that I give them credit for! For example, there are a selection of worksheets that are accompanied by sticker sheets; 'City by night', 'A walk in the Woods', 'Traffic Jam', 'Busy Bee' etc… The challenge may be to colour in the page, then put the stickers on the sheet. This could be a simple activity and I fully expected the girls to use the fun finger crayons that came with the set to do their normal scribbles and then stick the colourful stickers all over the page… what they actually did was to concentrate really hard to colour different objects and then put the relevant stickers in the right places. I was blown away by their accuracy and knowledge of where things 'should' go.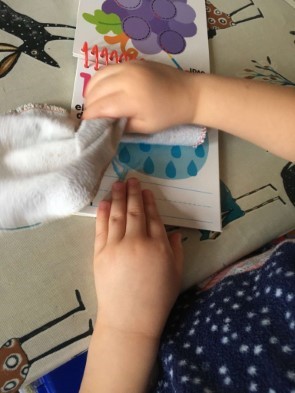 They keep asking for more sheets and to do more activities, but I am trying to save them and not do them all at once! The creative sheets have filled anywhere from 20-40 minutes each so far, which is a total winner from a parents point of view… and the fact that I haven't had to research and prepare them in advance is even better!
Another good thing about the worksheets is that they have given me inspiration for things to do again in the future. There is one page that has a selection of empty bowls on, and the children can use the stackable crayons to fill the bowl with their favourite foods. I'm planning on using that idea again to teach the girls about healthy eating.
There are some items in the box that will come in to their own as the girls get a bit older, such as the bound wipeable learning books. So far they have enjoyed using wipeable pens to colour in the pictures on each page and then they have had as much fun using a cloth to wipe them clean again! As they get older the will be able to interact with the contents of the books in the way they have been intended; by learning to draw numbers and letters. There are two books that are small enough to fit in your bag and take out and about to keep small children entertained at the table or whilst waiting for something, and there is a larger one that works well at home.
There is a funky 2D shoe, with holes for threading laces through. This made the girls chuckle and they had fun poking the laces through and then pretending to wear it as a shoe. I have read that the process of learning to tie your own shoes can take a while, and so we are starting now using this handy tool in the hope that they will be able to do their own laces by the time they go to school!
The child-friendly and safe scissors have been used to do other crafts, but I have had to cut out the things on the worksheets included in the set as they need a bit more precision than our girls have at the moment.
We recently went on holiday and I selected a few items from the set to take with us. They took up hardly any room to pack and were perfect for filling those bits of time you sometimes need when away. We've put the artwork up at home and the girls point at them and say they were the stickers they did "at the holiday house'.
This box is well worth having as an emergency resource to keep your preschool child entertained yet educated at the same time. It hits the nail on the head for the term 'learning through play' as they will love playing with the different activities and not even realise that they are being taught things at the same time!
If you would like more information about the Alex Brands 'Ready, Set, School' Set, or be a guest writer for The Toy Centre, get in touch with our friendly team, today.