Montessori Climbing Toys
Toddler climbing toys are really on trend at the moment. And it's easy to see why! Despite the fact that children have loved to climb forever, recently Montessori climbing toys, the Pikler triangle and the like have become a must have. Being a fantastic way to teach babies and children how to move. Firstly by stand and step. Then moving on to reach, pull, balance, climb. And yes, fall too. Equally important, these remarkable climbing toys promote a safe and entertaining adventure in the relaxation of your own home.
Certainly, toddler Montessori climbing toys popularity is assured in a large part due to the amazing benefits they offer to toddlers. Especially for great gross motor skill development, balance and spatial awareness. As well as bags of fun, of course!
So let's talk Montessori and in particular, what is this popular Pikler Triangle?
A child-led, exploration based approach to learning is the basis of the Montessori method. In use for a century, Montessori rightly considers that little one's flourish when they are in control of their learning situation. Thereby, letting children discover activities and materials in their own time. With the main aim being children progress their self-discipline and independence.
Meanwhile, also over a 100 years ago, Dr. Emmi Pikler, a Hungarian paediatrician, established the Pikler Triangle. Normally made of natural materials, especially wood (although not in every case), the Pikler triangle aspires to help children develop both their gross motor skills and spatial awareness. Furthermore, the prototypal Pikler triangle climbing toy is triangular (obviously) with ladder-style rungs and is open on the inside. Which cleverly lets little ones suss out the structure. From different levels and all angles, in fact.
Often one of the first climbing structures parents choose when babies become mobile, the Pikler triangle is perfect for little ones who are ready to search out new experiences! Certainly, youngsters adore to pull up on the rungs even before they begin climbing around.
Joining these two thoughts together, Montessori climbing toys were born!
Types of Montessori Climbing Toys
Montessori climbing toys differ in levels of difficulty, function and material. Here are some of the most well-known toddler climbing toys:
Pikler triangle
Pikler arch
Swedish Climbing Wall
Ramp
Jungle Gyms and multidimensional climbers
Often Montessori toddler climbing toys feature a mix of two or more of these remarkable structures. For instance, Goodevas tremendous range of climbers include a splendid range of 2, 3 and even 4 in 1 climbing frames. Such as their sensational 2in1 Montessori Climbing Set: Snake Ladder + Slide Board/Climbing Ramp.
Benefits of Montessori Climbing Toys for Babies and Children
Pikler Triangles, arches and ramps supply a whole variety of wonderful benefits for kids. Including:
Gross motor development
Grasping
Spatial awareness
Balance
Confidence
Beside those superb rewards, children also discover delightful opportunities for imaginative gross motor skill play. Indeed, the Indoor Wooden Playhouse is a magical Montessori-style climbing playground for toddlers. Which provides children with the freedom to explore, create, and develop their own games. As with all varieties of open-ended play, these magnificent climber toys ably advance imagination and creativity. For instance, maybe a Snake Ladder becomes a terrific castle or a brilliant boat. Or even a market stall!
At the same time, children explore the benefits of risky play. For example, playing at heights and investigating climbing, jumping and balancing. With such exciting climbing frames as the Swedish Wall Bars with climbing ladder and swings set. As kids master the essential physical and mental skills such as balance, climbing, co-ordination and consequences, they gain enormously in confidence.
When should you introduce a Montessori climber?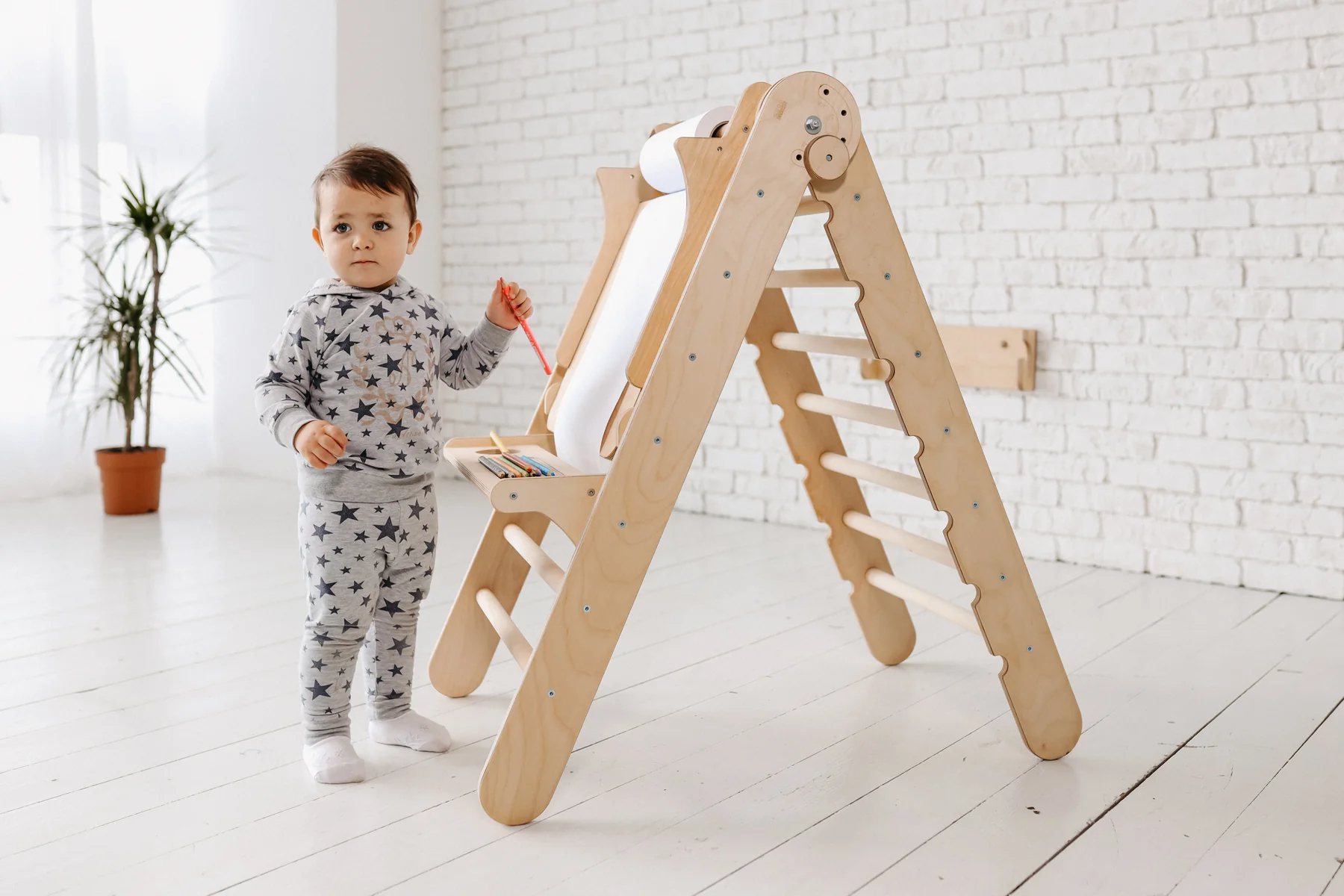 Montessori climbing toys and Pikler triangles are magnificent for preschoolers and toddlers but can actually be introduced as early as 6 months. In fact, as soon as your baby begins crawling and pulling up. For one thing, dependant on your baby's development, baby might use the pikler triangle to start pulling up to a standing position. And perhaps even attempt to climb.
Obviously, younger ages will require closer proximity to an adult so you may want to sit on the floor near your baby while they play. Similarly, do ensure to consult the product manufacturer's age guidelines and maintain close supervision when your child is using their climbing toy.
Are Montessori climbers worth it?
Most definitely! Because Montessori climbers are one of the most beneficial ways to encourage free play and independence. Whilst at the same time help your child's body and brain learn and develop new skills. Plus, they uniquely engage and entertain children when rainy day boredom comes round!
Notably, although many parents are concerned that Montessori climbers might be too costly or take up too much space. Please be assured that there really is something for every budget and living area in our selection. Moreover, most pieces are suitable from age 6 months to 7 years. Additionally, the extremely good quality of our wonderful climbing toy brands, namely Goodevas and Bigjigs (who both prioritise safety) means that these toys are exceptionally long-lasting. While the versatile nature of these revolutionary climbing sets means extra imaginative and gross motor skills are positively encouraged. From an ingenious 2in1 Swings Set. Which comprises a fabulous Disk rope swing and Rope ladder. To an amazing space saving folding 3in1 Montessori Climbing Frame Set: Triangle Ladder + Net + Slide Board/Ramp.
 All things considered, our excellent Montessori toddler climbing toys represent a highly effective way for little ones to independently explore a whole host of new and important skills. In a joyfully fun manner!