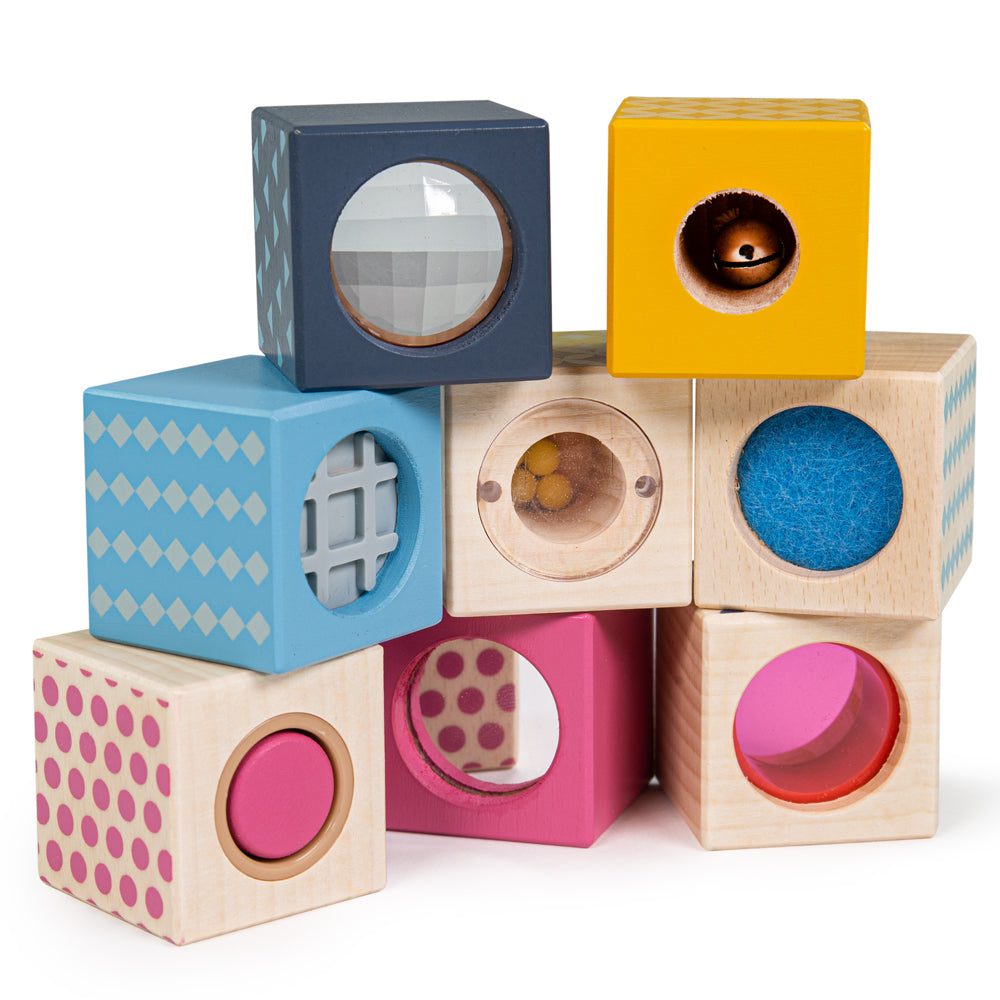 Children are born explorers of the world and they use their senses to build their understanding of it. As a baby, they will reach out to touch what they see and put objects in their mouth to learn a little more about them. In due time, at nursery they will build on this through "sensory play" activities and it's highly recommended for parents to do the same to help children in their cognitive development. Given these points, we've teamed up with an independent school in London to put this short guide together on sensory play and its importance in early childhood development.
What Is Sensory Play?
Sensory play refers to any activity that stimulates the five senses – touch, sight, hearing, smell, and taste. This helps children in making sense of the world around them and teaches them how to interact with it. Furthermore, toys like our FSC 100% Sensory Blocks actively encourage young minds. As the delightful eight wooden blocks each have a different sensory experience. Including a jingly bell, a mirror, pink viewfinder, optical prism, scratchy felt, cylinder squeaker and rattle balls.
Why Is Sensory Play Important for Children?
Fine Motor Skills
We covered fine motor skills in an earlier blog post. If you didn't catch that, it refers to the skills that we need to co-ordinate movements in the smaller muscles of our bodies. For example, Bigjigs Lacing Beads are perfect for flexing little fingers! Your child will rely on these skills to do things like put their shoes on, put their toys away and pick up food as they will need them to pincer and grip.
Language Development
They will pick up on the words that we use to describe objects, like "rough" and "soft". This will build on their language skills and help them in becoming a better communicator.
The Brain
Exploring their senses and the various materials will also help strengthen the nerve connections in their brain.
Problem Solving Skills
When interacting with different objects, your child may encounter some of the typical problems that we face, like when objects are too heavy or obscure to move. They will need to practise problem solving in order to overcome these.