Our latest special guest to review one of our toys is Olivia and her mum, Chloe, otherwise known as 'mummy_and_olivia_x' on Instagram. Olivia put the Janod Magnetic Rocket from our wooden toys range to the test, which proved to provide lots of fun!
We have been using the Janod Magnetic Rocket for around a week now and it very quickly became Olivia's new favourite toy! Obviously as the name states it is a rocket, which Olivia absolutely loves pretending to fly around the living room.
The toy itself is made of wood which for me is amazing, as I absolutely love wooden toys, it's got lovely bright colours which I think is really good for engaging younger children. It also comes apart meaning she can build the rocket up herself, which is great for working on hand-eye coordination. Once all the parts are in the right position, the little magnets then hold it all together.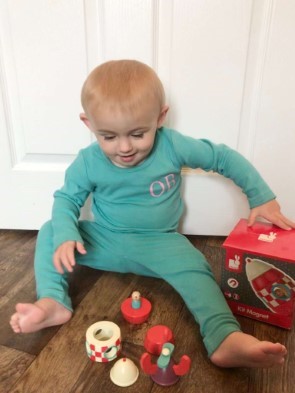 Each piece is the perfect size for Olivia's little hands; they are small enough to get a good grip but large enough that you don't need to worry about swallowing them. I would highly recommend this product to anyone looking for this kind of toy.
If you would like to be a guest writer for the Toy Centre, get in touch with us today. We look forward hearing from you!