With Christmas fast approaching, many of us are in the final stages of wrapping gifts and pulling together any last minute traditional stocking fillers. Christmas shopping has been a bit different in 2020, with many of us unable to hit the high streets and browse through the Christmas displays, but thankfully there are plenty of unique wooden toy stocking fillers available to buy online. Our traditional wooden toys have always been popular choices when searching for special gifts for little ones as their traditional style is timeless and can be passed down the generations, so why not choose some wooden toy stocking fillers too? We have created an easy roundup of our top 5 best traditional Christmas stocking fillers.
1. A classic skittle set
Spend hours of fun as a family trying to knock down all of the skittles with the Toy Story skittle set, containing 5 wooden character skittles and 2 balls. Alongside Toy Story, we have Peter Rabbit, Orange Tree and animal skittle sets to choose from. Suitable for 36 months and above.
Shop HERE.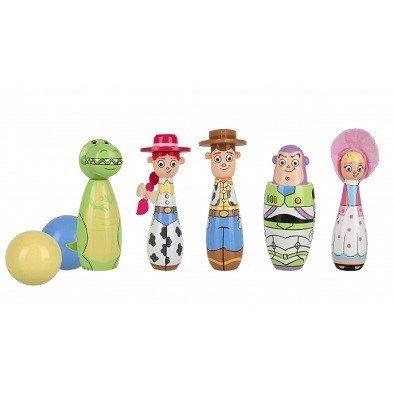 2. Colourful Magnetic letters
Great for little ones aged 3 and above, a set of magnetic letters make ideal traditional stocking fillers as children will adore the bright colours and exciting patterns. In addition to this, it makes a great educational toy to help develop their alphabet and spelling skills in a fun new way. We also stock the Tidlo magnetic numbers kit with a similar colourful design.
Shop HERE.
3. Create your own jewellery
Unleash their creativity and keep them busy with creative classic wooden toy stocking fillers. Recommended for ages 3 and above, watch their artistic side flourish as they design their very own wooden jewellery. The handy tub with a carry handle contains 300 beads varying in colours and exciting shapes such as teddy bears, butterflies and fish!
Shop HERE.
4. A traditional wooden skipping rope
Could we really discuss traditional Christmas stocking fillers without a traditional wooden jump rope? We love seeing children enjoy playing outdoors, getting away from their technology to have fun in the garden. Great for encouraging exercise, a skipping rope can be enjoyed with their friends too. Available in pink and red handles.
Shop HERE.
5. Pretend play grocery supplies
Perfect for budding chefs, stock up on wooden groceries to take imaginative play to the next level. Making great traditional Christmas stocking fillers year after year to add to their collection, choose from dairy, fruit & veg, bread, meat and more. Alongside encouraging role play, wooden food sets are a fun way of educating them on healthy diets and nutrition – they may even help you prepare your next meal!
Shop HERE.
With these 5 toys naming just a few of our favourite traditional stocking fillers, there are plenty more to be found across our websites. Find exciting wooden toy stocking fillers for little ones of all ages which make adorable additions to their toy box. In order to receive your traditional stocking fillers in time for the big day, place your order before midday on Friday 18th December. For any last minute shoppers, we also offer an express delivery option.